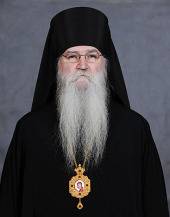 George

Paul Schaefer
Bishop, Canberra, vicar ROCOR

Canberra
20 Chelmsford Avenue

Sydney

Croydon, NSW 2132

AUSTRALIA
+61 (0) (2) 9747 5892.

bpgeorges@gmail.com
diocese@rocor.org.au
anzdiocese@iinet.net.au


www.rocor.org.au
* Belleville Illinois N 23.4./6.5. Catholic High school

Southern İllinois University

received into Greek Orth Church Modesto CA

ROCOR Holy Trinity Seminary Jordanville New York

novice (A Averky Taushev) working in the farm and cemetery

mon Mitrophan (of Voronezh), subdeacon on Palm Sunday.

sent by A Laurus to Mount Athos, great schema (Nektarios Koutloumousiou) "George the Great Martyr".

Jordanville Printshop, Orthodox Life.

diak.

priest.

abbott, 2007 Dean.

archim.

translated Optina Elders "Living without Hypokrsy".

⊕ -2015 B Mayfield, vicar East USA, ROCOR (B Gabriel of Montreal, B Peter of Cleveland, B John of Caracas)

vikar Australia ROCOR Livegiving Spring Canberra, M İlarion, B Irinej (Serb).