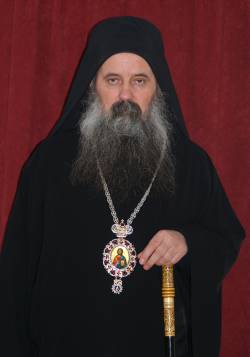 Fotije

Rade Sladojevic
Bishop, Zvornik Tuzla

Zvornik Tuzla
Jovana Dučića 40,

Bijeljina

76300

BOSNIA
[387] 55 222-300, -310. fax 210960. [387] 65 512269 M. Jovanovića 1, BOSNIA -75000 Tuzla, [387] 75 221106.

eparhija@bn.rstel.net

* School Čurug, Novi Sad.

diplom theol Beograd.

stud NT Erlangen.

mon monastery Kovilj.

diak (B Irinej Bačka).

Manastir Bođani.

Prof. Seminar Sv. Arsenije in Sremski Karlovci.

⊕ Novi Sad B Dalmacija

Rector of the reestablished Theological School in the Monastery Krka.

member of the Holy and Great Synod of the Orthodox Church in Crete.

elected B Zvornik+Tuzla.

installation as B Zvornik+Tuzla.