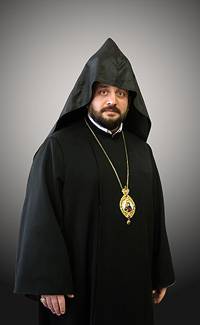 Hovakim

Vardkes Manukian
Bishop, Primate Great Britain

London
St. Sarkis Iverna Gardens Kensington

London

W8 6TP

GBRITAIN
[44] 20 7937-0152, fax -9049

bphovakim@gmail.com
artikitem@gmail.com
prmoff@armeniandiocese.org

*in Voskehat Armenia.

* school Voskehat.

Vaskenian Academy Lake Sevan.

Ecumenical School Bossey.

Gevorkian Theol Seminary Etchmiadzin.

diak (A Mesrop Grigorian).

Inter Church Relations Office. 2005-2015 Director. teacher Church History Gevorkian Seminary and Vaskenian Academy.

priest (A Voskan Galpakian) thesis "Extraces from the History of the Coptic Orth Church".

Diaconal School Aarhus.

stud Akademia Moskva.

Church and Society commission CEC.

archim, Vardapet (A Yeznik Petrosian) "Ecumenism in the 20th Century and the Armenian Church".

stud Yerevan University School of Political Studies.

Central Committee CEC.

⊕ Etchmiadzin. scholarship fr. Andreas Hayk.

Primate Artik.

Primate GrBritain A London.