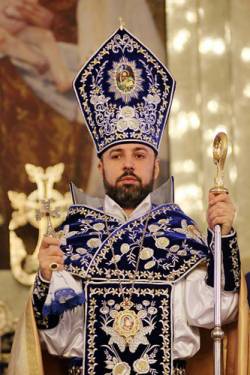 Anushavan

Andranik Zhamkochian
Bishop, Dean Theol Faculty State University
52 Abovian St

Erivan

0001

ARMENIA
[374] 1 522458, 583159

ysufth@arminco.com
a.a.zhamkochyan@gmail.com

diak

* Vagharshapat Etchmiadzin, N Vartanans Thursday before Lent

Vahan Rshtuni school Vagharshapat.

diplom theol Seminary Etchmiadzin "Movses Jughayetsi's Collection of Philology".

Komitas state conservatory Jerevan, teacher liturgical music Seminary Etchmiadzin.

priest.

Protestant College Halle Germany.

Martin Luther Universität Halle-Wittenberg Germany.

archim. Vardapet "Komitas and the Armenian Church".

Dr. theol Universität Bonn Germany.

Kanonistisches Institut Münster Germany "Grundzüge des armenischen Kirchenrechts 4. bis 20. Jahrhundert".

dean Cathedral Jerevan.

B.

Etchmiadzin (Patriarch Karekin II.) Dean Theol Faculty Jerevan State University.