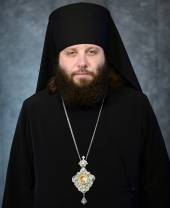 Nicholas

Nikolay Olhovsky
Metropol, Eastern America + New York, First Hierarch of ROCOR

Eastern America
75 East 93rd Street

New York

NY 10128-1390

USA
[1] 732-961-1917.

NOlhovsky@aol.com
bishopnicholas@eadiocese.org


http://www.eadiocese.org/
*Trenton, NJ, USA. N16.2.

graduated St. Alexander Nevsky Russian Parish School in Lakewood, NJ

graduated Hamilton West High School

B.Th. Holy Trinity Seminary Jordanville, NY.

he served as cell attendant to Archbishop Laurus

Bachelor's Degree in Information & Communications, the State University of New York Technology School.

diak

participated in the celebration of the signing of the Act of Canonical Communion in Moscow, accompanying Metropolitan Laurus

priest

mon

archim

B Manhattan, vicar East American Diocese ROCOR.

M Eastern America + New York, First Hierarch of ROCOR.