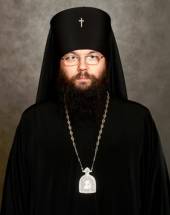 Matfej

Konstantin Kopylov
Archbishop, Egorjevsk, vicar Patriarch
Lazorevyj proezd 15, bldg 2

Moskva

129323

ROSSIJA
[7] (499) 180-10-06

svvik@patriarchia.ru


https://sv-vikar.ru/
A Egorjevsk, vicar North-Western and Western moscow

*Perm. baptized in adolescence.

stud school № 19 Perm.

Chemical Engineering Department of the Perm State Technical University "Machines and devices of industrial production and construction materials."

Mon. Michael the Archangel monastery Kozihi Novosibirsk

stud Tomsk Theol. Seminar.(correspondence course)

Regent monastery choir

mon ( abbot Artemije (Snigur).

diak, (Archbishop of Novosibirsk and Berdsk Tikhon.)

dean podvorje

priest

stud Moscow Theological Academy (correspondense course). "The persecution of the church in the town of Kungur and Kungur Perm diocese deanery 1917-1941 years.".

professor of church music in the Novosibirsk seminary.

transferred to the clergy of the diocese of Petropavlovsk and Kamchatka.

secretary of the diocesan administration.

head Department Architecture and Construction. Member Public Council Kamchatka region.

elected B Anadyr+Chukotka.

archim.

Moskva Uspenskij Sobor B Anadyr (Patr. Kirill)

Archbishop

A Jegorjevsk, vicar Patriarch, North-East and West vikariatstvo.

North-East and South-East vikariatstvo.