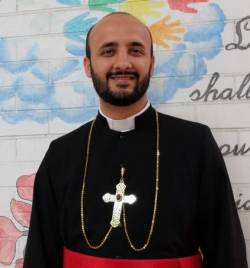 Benyamin

Ninos Elya
Bishop, B Victoria (Melbourne) + New Zealand

Victoria
(02) 9753 4185

https://www.assyrianchurch.org.au
born in Baghdad, Iraq.

diak (Metropolitan His Beatitude Mar Meelis Zaia AM in Sydney's St Hurmizd's Cathedral).

ordained Priest (His Beatitude Mar Meelis).

BA and MA, Australian Catholic University.

chaplain of the Assyrian Schools (St Hurmizd Primary and St Narsai High Schools), concentrating on the Christian Studies of the schools; parish priest of Saints Peter and Paul Church in Sydney..

elected B Melbourne

archdeacon (Melbourne)

consecrated bishop in Melbourne (Australia) (Metr Meelis Zaia).