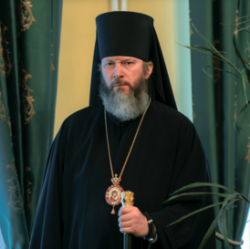 Evfimij

Dmitrij Moisejev
Bishop, Lukhovitsy, vikar Patriarch, Head Mission Department
Malyj Kisel'nyj per., 6, str. 1,

Moskva

107031

ROSSIJA
[7] 495 628-38-22.

info@sinmis.ru


http://портал-миссия.рф
*Kaliningrad (Korolyov) Moskow region.

diploma philology Lomonosov Univ. Moscow.

Seminar Moscow.

Akademija Moscow.

mon, diak.

stud Uni Bern.

Kandidat. "Missionary activity of Saint Boniface".

teacher German and work in publishing department, Akademija.

hegumen.

deputy Izdatelskij Sovet.

rector, first vice-rector Kazan seminary.

rector Tula seminary.

chosen B Lukhovitsy, vicar Patriarch, Head Synodal Mission Department, namestnik Vysokopetrovsky Monastery.

B Lukhovitsy (Christ the Saviour).