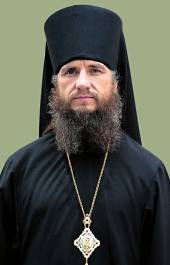 Savvatij

Sergej Zagrebelnyj
Bishop, Bishkek+Kyrgyzstan

Bishkek
pr. Zhibek-Zholu 497,

Biškek

720033

KIRGIZSTAN
[996] 312 32-54-85; [996] 312 32-53-48; fax [996] 312 32-53-56

kanzelaria@eparchia.kg


https://pravoslavie.kg/
* Sosnovskoje Tavričesk Omsk.

school Novomoskovka Omsk.

military school Omsk,

lieutenant Murmansk, generalštab.

baptized, married, Anastasija *

commander Novosibirsk,

diak klirik Omsk

⊖ rektor Ust-Išim, Vjatka.

divorced.

mon

diplom Seminar Tobolsk.

igumen.

⊕ Moskva

B Tara+Tjukalinsk, Metr. Omsk

B Bronnitsi, vicar Patriarch; Head Synodal Department for Cooperation with the Armed Forces and Law Enforcement Agencies

Bishkek+Kyrgyzstan.