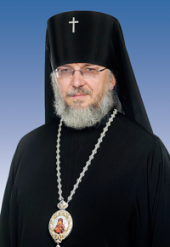 Evlogij

Vasilij Patsan
Archbishop, Novomoskovsk, vikar Dnjepropetrovsk, UOC
Mikhaila Grushevskogo 4-A,

Dnipro

49070

UKRAINA
[+380] 567 45 33 73.

mitropolitiriney@mail.ru


http://eparhia.dp.ua/
* Mala Moščanica, Rovno, Aleksejević. N7.3.

school.

cultural school Dubno.

military service.

absolvent Seminar Kiev,

Akademia Kiev.

teacher seminary.

mon

diak

"Evlogij".

⊖

igumen.

parish Ploskoe.

archim .

Dr. theol Kiev "Orthodox teaching on role of reason on a way of theosis". professor Akademia Kiev.

⊕ Novomoskva, vikar Dnjepropetrovsk, UOC.

PhD Dnepropetrovsk University "American personalism".

A.