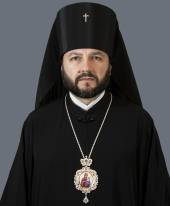 Leonid

Leonid Gorbačev
Archbishop, Yerevan+Armenija

Yerevan
68 Zakaria Kanakertsi St,

Yerevan

0010

ARMENIA
[374] 10 284212.

contact@rnsarm.info


http://hrampokrovsky.cerkov.ru/
* Stavropol. N18.6

Krasnodar.

laborant aerodynamika.

military service.

ipodiakon to A Isidor.

Seminar Sankt-Peterburg.

diak Krasnodar

⊖ ;

Ekaterinodar.

Moskva Synodal commission contacts military services.

Department External Church relations Moskva.

Jerusalem.

representative Alexandria with missions Ethiopia, Kenya, Tanzania, South Africa, Botswana, Greece.

⊕ Danilov Monastir Moskva, Patr Kirill, B Argentina+South America.

B Vladikavkas+Alanija

Manager Patriarchal Parishes in Armenia.

A.

Deputy Head Department External Church Relations.

co-chair Bilateral working group dialogue Malankara Church.

co-chair Bilateral commission dialogue Ethiopian Church.

A Klin, vikar Patriarch, responsible for treating jurisdiction appeals from African clergy.

A Yerevan+Armenija (eparchy restored).