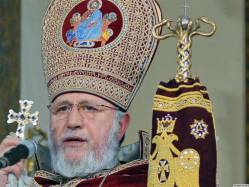 Karekin

Ktrich Nersissian
Archbishop, Patriarch Catholicos, Episkoposapet, Supreme Patriarch, A Ararat

Ararat
Catholicosate of All Armenians,

Etchmiadzin

1101

ARMENIA
(374-10) 517-110 Fax: (374-10) 517-301

divanatun@etchmiadzin.am
frvahram@etchmiadzin.am


www.armenianchurch.org
* Voskehat Armenia. NVartanans Thursday before Lent.

stud Seminary Etchmiadzin.

diak

teacher Seminary Etchmiadzin.

mon

⊖ priest Etchmiadzin.

stud Vienna.

priest Deutschland, stud Bonn.

Akademia Moskva.

vicar General Ararat Yerevan.

archim, Vardapet.

⊕ bishop Etchmiadzin.

established in the former Communist Pioneer Palaces the Vaskenian Seminary at Lake Sevan to educate young men in religious studies, completing a five-year course prior to the entrance to the Theological Academy at Holy Etchmiadzin, where they would study for one additional year.

A.

Patriarchal Vicar General, patriarchal Vicar Diocese Ararat (Araradian).

diplom theol Erivan "Hans Küngs Ecumenical Theology".

(132.) Patriarch Catholicos.

"The Star of Romania".

Summit Religious leaders Moskva.