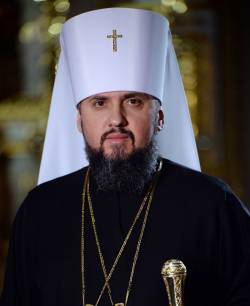 Epifaniy

Sergej Petrović Dumenko
Metropol, Metropolitan of Kyiv and All Ukraine

Primate of the Orthodox Church of Ukraine
street Trohsvyatitelska, 8 Kyiv

Kiev

01001

UKRAINA
+380 44 278-41-45

info@pomisna.info


https://www.pomisna.info/
* Volkov Odessa

Theol Seminary Kiev.

gratuated from Starozhadov High School.

Theol Akademia Kiev: candidate of theol ("Formation of Canon law collections in the pre-Nicean period and their characteristics").

lecturer Seminar Rovno; senior assistant to the inspector; editor of the Internet portal "Orthodox Rovno"; member of the editorial board of the religious Church Journal "Dukhovnaya niva".

secretary of Rivne diocesan administration; personal secretary of M of Rivne and Ostrog Daniel (Chokalyuk).

press secretary of the Rivna Diocesan administration.

coopted by the National Union of Journalists of Ukraine

stud phil Athens.

lecturer Theol Akademia Kiev: head of philology department.

mon (Archbishop Dymytry of Pereyaslav-Khmelnytsky)

diak (hierodeacon).

⊖

secretary of Head UOC-KP Filaret (Denisenko).

archim - Orden Volodimir, Orden za zaslugi.

Governor of St. Michael's Vydubychi monastery Kiev.

Chancellor of Kiev Patriarchate.

ass. prof Theol Akademia Kiev.

appointed B of Vyshhorod, Vicar of the Kiev diocese.

⊕ Kiev

Rector of the Kiev Orthodox Theological Academy and chancellor of Pereyaslav-Khmelnytskiy.

chairman of the editorial committee.

prof. Theol Academy Kiev.

Archbishop (Patriarch Filaret); permanent member of the Synod UOC-KP.

M of Pereyaslav-Khmelnitsky + Bila Tserkva; patriarchal vicar with the rights of the diocesan bishop.

M of Kiev and All Ukraine; Primate of the Ukrainian Orthodox Church.