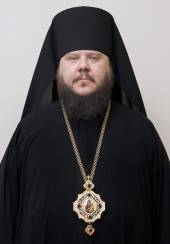 Kallinik

Konstantin Chernyshyov
Bishop, Bahchisaraj, vicar Simferopol, UOC MP
Gerojev Adjimushkaja 9/11,

Simferopol

295011

ROSSIJA
[7] (978) 929-52-62, 733-85-29

cr_eparx@mail.ru


http://crimea-eparhia.ru/
*Evpatorija Krym.

stud Law, Kharkiv National University of Internal Affairs.

diak.

priest.

monk.

absolvent Volodymyr Dahl East Ukrainian National University.

in charge of monasteries Simferopol and Krymsk diocese.

absolvent Odessa Theol Sem.

aumônier Tavricheskaja Theological Seminary.

archim.

hegumen St Climent monastery Inkerman.

elected B of Bahchisaraj, vicar Simferopol.

consecrated B Bahčisaraj, vicar Simferopol.