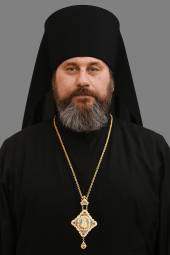 Stefan

Sergij Privalov
Bishop, Kovrov, vikar Metr. Vladimir
Bolshaja Moskovskaja 68,

Moskva

600006

ROSSIJA
[7] (4922) 32-62-93.

eparhia33@gmail.com


http://www.eparh33.ru/
*Bryansk.

Stud radio engineering in Zhytomyr.

military service while being an engineer.

studied Fac Orthodox culture Military Academy Strategic Missile Forces named after Peter the Great; upon completion, appointed head laboratory department of the academy.

employee of the Synodal department Armed forces. served as head of the office, head of organizational and mobilization sector and the space forces sector, deputy chairman of the Department.

diak.

priest.

Kandidat (PhD) St Tikhon University. Thesis "Military-confessional relations of the Russian Orthodox Church with the Armed forces of the Russian Federation: theoretical foundations and development prospects".

archpriest.

Head Synodal Department for Cooperation with the Armed Forces and Law Enforcement Agencies (2013-2016 - Acting Head).

monk.

archim

B Klin, vicar Patriarch.

B Kovrov, vikar Metr. Vladimir.