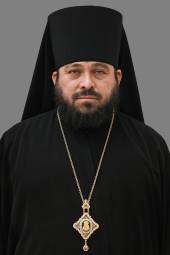 Ignatij

Ilja Grigoriev
Bishop, former Gurijev, vikar Kemerovo, Metr. Kuzbass
* Village of Khormaly, Ibresinsky district, Chuvash Autonomous Soviet Socialist Republic in a large family of a priest. Chuvash origin.

Leningrad Theol Sem.

Leningrad Theol Akad.

diak.

priest. Chuvash parish Uljanovsk. Celebrated in Slavonic and in Chuvash.

Faculty of Economics, St. Petersburg Technical University.

rector of the Prince Vladimir Church of Ulyanovsk.

moved to Kazan. viceroy of the Bishops' Compound Holy Martyr Cyril of Kazan. dean of the third city district of the Kazan diocese.

archim.

elected B Čistopol + Nižnekamsk

Valaam (Patr Kirill) B Čistopol + Nižnekamsk

Gurijev, vikar Kemerovo, Metr. Kuzbass.

retired, resides in Moscow.