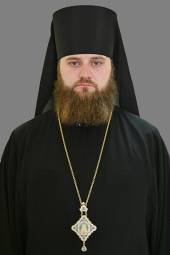 Ignatij

Fjodor Golinčenko
Bishop, Jenissei + Lesosibirsk

Jenissei + Lesosibirsk
Ul. Raboche-Krestjanskaja, 101

Jenisejsk

663180

ROSSIJA
eniseyskep@mail.ru


http://енисейскаяепархия.рф/
* Village of Krylovskaya in the Krasnodar Territory in a family of workers.

Ekaterinodar Theol Sem.

Sretenskaja Theol Sem.

diak.

priest.

rector and chairman of the Parish Council of the Cathedral (under construction) of the Nativity of the Blessed Virgin Mary, Krasnoyarsk.

acting rector of the Church of Michael the Archangel and his miracle in Khoneh, Krasnoyarsk.

"kljuchar" and deputy chairman of the parish council of the Intercession Cathedral of the city of Krasnoyarsk.

elected B Jenissei + Lesosibirsk

archim.

Donskoj Monastery (Patr Kirill) B Jenissei + Lesosibirsk.