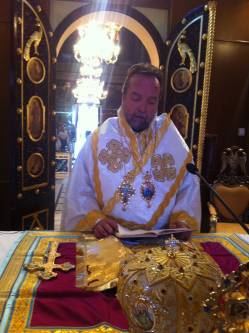 Alexios

Panagiotis Leontaritis
Metropol, M Carthage

Carthage
rue de Rome 5,

Tunis

TUNESIA
[216] 71 247958, residence 331775, fax [216] 70 939335. Casablanca [212] 276892

gopcair@hotmail.com
mealca64@hotmail.com
bialui@hotmail.com

* Athens. N17.3. diplom Greek Literature Athens, diplom theol Thessaloniki.

diak

⊖ secretary Trikkis

priest

archim

protosynkellos Trikkis

Chambésy Genève.

⊕

B Nitria, Patriarchal Vicar for Cairo.

M Carthage.

Cross of the Order St. Savvas with a star.

member of the Holy and Great Synod of the Orthodox Church in Crete.