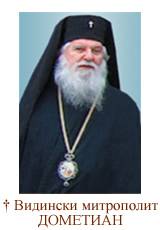 Dometian

Dimitar Topuzliev
Mitropolia ul. Baba Vida 11,

Vidin

3700

BULGARIA
[359] 94 60188-0, -2. [359] 88 8241747
* Hasovitsa, Smoljan "Dimitar Valčev". N10.1.

mon.

diak .

⊖ .

archim .

⊕ B Znepole.

Secr Holy Synod.

Adm Akron,

vikar Metr Sofia.

M Vidin.

Chef Department Ecumenical Relations, closed 1996.

Central Committee Member Conference European Churches CEC.

honorary citizen Vidin.

Joint international commission for the theological dialogue (cath-orth), Chieti, Italy.(Unable to attend)

Passed to the Lord.