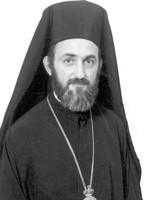 Ioakim

Konstantinos Kontovas
Metropol, M Elenopolis

Elenopolis
* Volos (parents Johannes and Militsa). N9.9.

diak diak.

absolvent theol fac Athens.

⊖ priest (M Chrysostomos Peristeri).

parish St. Frumentios Addis Ababa; then head of Annunciation Cathedral in Asmara in Eritrea.

transferred to Patriarchate of Alexandria (Metropoly Aksum).

Secretary of the patriarchate of Alexandria; head of patriarchal cathedral St. Nicolas in the region Ibrahimia (responsible for renovation).

⊕ ordained bishop (cathedral St. Savvas).

elected bishop of Zambia by the Holy Synod.

M Zambia (with Zambia raised to rank of Metropolia).

M Zambia + Malawi.

Prof. Jerusalem School Hl. Sion

retired

transferred to Patriarchate of Jerusalem, M Elenopolis.