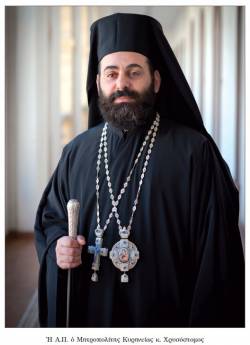 Chrysostomos

Constantinos Papathomas
Metropol, Kyrenia

Kyrenia
P.O.B. 20258, Achilleos 3 Aglanzia,

Lefkosia

2150

CYPRUS
Tel. + 357-22-444242. Fax + 357-22-444330

chrysostomos1@me.com
i.m.k.@cytanet.com.cy
info@m-kyrenia.org


http://www.metropolisofkyrenia.org
* Kyrenia, Papathomas N.first Sunday before 14th Sept.

Military service.

dipl theol Thessaloniki

stud theol England (MA Durham), France ,Switzerland (MA Fribourg), Austria( Phd Vienna). Officium of Ecumenical Patriarchate Teacher of Orthodox theology.

Teacher American Academy of Nikosia

mon.

Palmsunday diak (A. Chrysostomos).

Teacher Nicosia.

priest Vienna,Austria and archim (M Kykkos)

Cultural Center Monastery Archangel Michael Metochion Kykkos.

⊕ Panagia Evangelistria Pallouriotissa, M Kyrenia (A Chrysostomos II).

Loppiano Dr.h.c. Patr Bartholomaios

34th Ecumenical Meeting for Bishops, Istanbul

member of the Holy and Great Synod of the Orthodox Church in Crete.