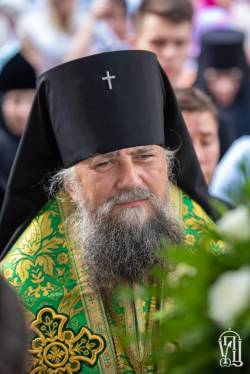 Iov

Viktor Smakouz
Archbishop, Shumy, vikar Ternopil
Vossoedinenija 11,

Počajev

47025

UKRAINA
[380] (98) 724 64 34

pdsem@meta.ua
bishjob@telus.net


http://pdsem.mrezha.net/
* Počajev Kremenets Ternopol, father priest. N10.9.

Seminar Leningrad.

Soviet Army.

Akademia Sankt-Peterburg. Kandidat "History Church Preaching Ukraine 17th-18th century".

diak

⊖

sekretar, inspektor, Prof Greek Language NT Church Law Akad Kiev.

mon

archim

⊕ (Lavra Pečera Kiev).

B Cherson+Tavričessk,

B Sumy+ Ahtyrka.

B Kašira, Parishes Russian Orth Church Canada,

also USA.

asked to be transferred to Ukraine. B Shumy, vikar Ternopil, rector Pochaev Sem.

A.