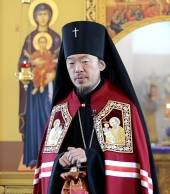 Feofan

Aleksej Kim
Archbishop, Korea, Exarchate South-East Asia

Korea
45-11 Hangang-daero 62 gil, Hangangno-dong

Seoul

04382

KOREA
[82] 1083798412.

korthodox19@gmail.com
inkyzy@gmail.com


https://korthodox.com/
* Južnosahalinsk, family of ethnic Koreans. N24.10.

stud commerce filial Južnosahalinsk university Moskva.

baptized Južnosahalinsk.

mon

diak

⊖ .

seminar Smolensk.

klirik Abakan in the eparchy Korea of Konstantinopel.

igumen. Honorary citizen Seoul.

absolvent correspondence course Akademia Moskva.

⊕ B Kyzyl+Tyvinsk

A.

A Korea, Exarchate South-East Asia (eparchy created). Interim Kyzyl.