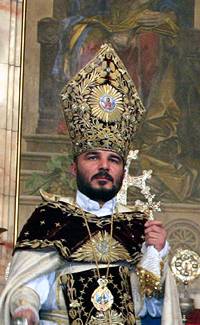 Vrtanes

Kamo Abrahamian
Bishop, Chaplain General of the Armed Forces Republic Armenia
St. Bagrevandi 5,

Erivan

0010

ARMENIA
[374] 10 294438, [374] 98 788 887

srbvrtanes@mail.ru
armchaplain@mail.ru

* Nagorno Karabach. Nson of Gregor the Enlightener

Theol Seminary Etchmiadzin,

Soviet Army.

Museum Etchmiadzin.

diak

diplom "The Brief History of the Aghvank Church in the IV-XVII centuries".

⊖ Pentecost.

abbot Artsakh Nagorno Karabach.

vicar diocese Artsakh.

abbot St. Hripsime Armenia.

Chaplain Armed Forces.

pastor Gougark Tavuš.

vicar New Nakhičevan in Rostov.

Chaplain General Armed Forces.

⊕ Etchmiadzin.