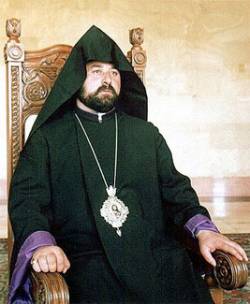 Arakel

Elbek Karamian
Archbishop, Kotaik

Kotaik
Episkoposat Tsaghkadzor

Kotaik

2301

ARMENIA
[374] 223 60629, 22113, 22891. [374] 93 408130

kecharis1@hrazdan.am

A

* Jeranos Martuni, N the 12 Apostle.

stud Pedagogics.

diplom Gevorkian Theol Seminary Etchmiadzin "Interpretation of John the prophet according to Catholicos Asetsi Ajapahian 1809-1831".

Soviet Army.

diak (Husik Santurian).

parishes Sisian Kotaik, vicar Siunik diocese Goris.

rector Seminary Sevan, vicar Araratian diocese.

archim. Vardapet "All the Evil is torturous according to Arakel of Siunik".

Ostkirchliches Institut Regensburg.

Primate Kotaik.

B.