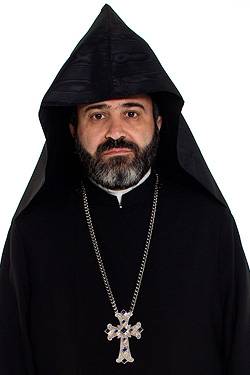 Datev

Hratch Hagopian
Bishop, Romania

Romania Bulgaria
str. Armeneasca 9

Bucureşti

021042

ROMANIA
[40] 21 6140208, 6121083

arhiepiscopie@armeni.ro
bishopdatev@armeni.ro

* Mossul,N Vartanans Thursday before Lent.

school Baghdad.

stud theol Etchmiadzın.

diak (Husik Santurian).

deacon Iraq.

stud Geneva "Eusebios of Caesarea in old armenian literature".

Netherlands.

priest Baghdad (Aak Asadurian).

teacher Baghdad.

redactor Istanbul and Etchmiadzin.

parishes France.

Dr. theol Vardapet Lyon.

parishes Netherlands.

Primate Bucuresti.

B. Romania

also Vicar of the Armenian Diocese of Bulgaria.