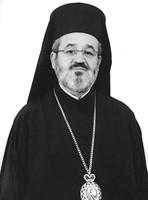 Theophilaktos

Konstantin Tsoumerkas
Metropol, Tripolis, Exarch of Libya

Libya
P.O.Box 2451, Tripoli

Tripoli

LIBYA
* Exochi Nea Pieria "Konstantin". N8.3. mon Vatopediou, stud Athonite Eccl School. Librarian Vatopediou. diplom theol Athens.

diak

⊖ parishes Veria, Larisa, Rhodos,

Carthage Tripolis.

⊕ ;

B Babylon, Inspector Monastery Saint George Cairo.

M Tripolis

Cross of the Order St. Savvas with a star

after the French bombs expulsed to Greece

member of the Holy and Great Synod of the Orthodox Church in Crete.