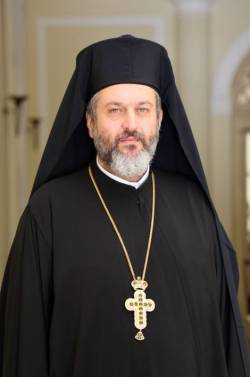 Theodoros

Dridakis
Bishop, B Babylonos, patr vicar in Cairo
B.P. 2006

Alexandria

EGYPT
[+20] 2 510-0013, -3516

patriarxeo.alexandreia@gmail.com
patriarchate@greekorthodox-alexandria.org


www.patriarchateofalexandria.com
* in Rethymno (Crete).

Church Lyceum Athens; Higher Church School in Crete; Socio-Theol Faculty University Athens.

mon. (monastery Toplou Virgin Mary of the Cape in Crete).

diak.

priest (B Jevgenij of Ierapetra in monastery Toplou).

archiman. (Cathedral of Annunciation in Sitia).

Metropolia Ierapetra, monastery Toplu, Cathedral of Annunciation in Sitia).

higher formation in Paris: Université Paris IV (Sorbonne) and Institut St-Serge; ministry in the clergy of the French Metropolitanate of the Patriarchate of Constantinople.

languages: Greek, English, French.

transferred to the Patriarchate of Alexandria, ministry in Durban, Cape Town Metropolia, South Africa.

Patr Church St. Nicholas in Cairo, Egypt; then head of St. Konstantin and Helena-Church of the Greek parish in Kairo.

elevated to the dignity of great ecclesiarch of the Alexandrian Church by Patr Theodoros II.

auxiliary B Babylon, patriarchal vicar in Cairo.

ordained bishop (St. Nicholas Church Cairo) by Patr Theodoros.