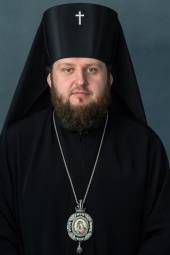 Aksij

Dmitrij Lobov
Archbishop, Podolsk+Lyubertsy, Metr. Moskva

Podolsk
Krasnaja 24B,

Podolsk

142100

ROSSIJA
[7] (495) 858-17-17.

kanc@podolskeparh.ru


https://podolskeparh.ru/
*Ryazan (worker's family; baptized as a child)

Absolvent Secondary School No. 17

Dipl Radio Engeneering (Ryazan State Radio Engeneering Academy, today: University).

entered the Solovetsky Monastery of Holy Transfiguration in Moscow.

mon.

Moscow Theol Seminary.

Teacher, from 2004 on Director of the Sunday School in the Monastery.

diak. (A Arsenij of Istra).

priest. (A Arsenij of Istra).

Assistant of the Abbot (Patr. Alexij II).

Moscow Theol. Academy.

appointed dean of Nerchinsk region + sacristan and president of the Parish Council of the Cathedral of Resurrection in Nerchinsk.

appointed director of the Missionary Department of the diocese Nerchinsk.

archiman (M Varsonofiy of St. Petersburg+Ladoga; Cathedral of All Saints within Danilov Monastery Moscow).

elected B Nerchinsk + Krasnokamensk.

B Nerchinsk+Krasnokamensk

A Juzhno-Sakhalinsk+Kurily.

Podolsk+Lyubertsy, Metr. Moskva (eparchy created after dividing eparchy of M Juvenalij).