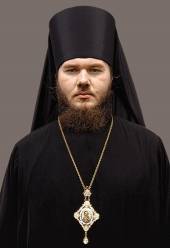 Foma

Vadim Demchuk
Bishop, Pokrovsk+Novouzensk, Metr. Saratov

Pokrovsk
Pl. Svobody 5,

Engels

413100

ROSSIJA
[+7] (8453) 56-86-80; [+7] (8453) 56-85-90.

info@pravpokrov.ru


https://www.pravpokrov.ru/
* Bălṭi (Belzy), Moldova; baptized as a child. N. Anti-Pascha (Dimanche de Thomas).

Mittelschule No 4 in Bălṭi; unskilled worker in Holy Trinity Lavra St. Sergij, prepared for Seminary by catechetical courses.

First year Seminary; subdeacon (A Evgenij).

member of the brotherhood of the Lavra.

absolvent Seminary: "The situation of the Orthodox Church in the Republic of Moldova 1924-1941"

sacristan and cell servant to igumen Bissarion (Ostapenko, +2015).

novice (rjasofor; B Feognost of Sergiev Possad)

Executive Assistant to the governor of the Lavra B Feognost of Sergiev Possad.

absolvent Theol Academy.

diak.

(name: Foma = Thomas Apostle)

(B Feognost)

sent to Donskoj monastery Moscow; temporarily appointed ekonom.

received as brother of the monastery; confirmation as ekonom.

appointed senior priest to the monastery of the Icon of the Mother of God at the Ministry of the Interior for economic security and fight against corruption.

assistant to the head of the Donskoj monastery for liturgy and administration.

archim (M Varsonofij of St-Peterburg and Ladoga).

⊕ B Gdov, vicar Pskov.

B Uržum+Omutninsk, Metr. Vjatka

Bronnitsi, vikar Patriarch, Abbot Donskoj Mon.

Head North-West Vikariatstvo.

Head South Vikariatstvo.

First Deputy Financial and Economic Department ROC.

Sergijev Posad, vicar Patriarch, Abbot Lavra.

Sergijev Posad+Dmitrov, Metr. Moskva (eparchy created after dividing eparchy of M Juvenalij).

Pokrovsk+Novouzensk, Metr. Saratov.