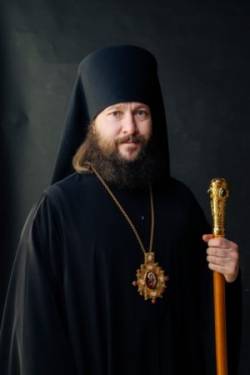 Zosima

Maksim Balin
Bishop, Magnitogorsk+Verkhneural'sk, Metr. Cheljabinsk

Magnitogorsk
Voznesenskaja, 33

Magnitogorsk

455038

ROSSIJA
[+7] (3519) 35-92-92

magniteparh@yandex.ru



http://mgn-eparhia.cerkov.ru/
* Omsk.

Omsk Theol College.

Mosk Theol Sem.

worker in the Nikitsky monastery of Pereslavl-Zalessky.

Omsk State Pedagogical University.

Tomsk Theol Sem.

monk.

diak.

sent to the Yujno-Sakhalin diocese on a mission trip.

clergyman of Yujno-Sakhalin diocese.

priest.

moved back to Omsk.

hegumen of the Nikolsky Monastery in the village of Bolshekulachye of the Omsk Region. He carried the obedience of the chairman of the department of the Omsk diocese for monasteries and monasticism and the dean of the monasteries of the Omsk diocese.

archim.

B Asovo, vicar Omsk (Patr Kirill)

B Magnitogorsk+Verkhneural'sk, Metr. Cheljabinsk.