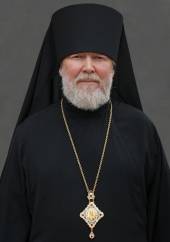 Pavel

Valerij Belokrylov
Bishop, Sarapul+Mozhga, Metr. Udmurtia

Sarapul
ul. Goncharova 48A,

Sarapul

427960

ROSSIJA
[7](34147)20484.

sarapul@mpatriarchia.ru


http://eparhia-sarapul.ru/; http://belokrilov.pravorg.ru/
*Pervomajskij Udmurtia. N. 12.7. Baptized youngster.

technikum Votkinsk.

firefighting and technical institute, Sverdlovsk.

service on senior firefighting security positions Votkinsk machine-building plant.

diak.

⊖.

Resurrection church Sarapul.

rector St Kseniya of Petersburg, Sarapul (erected the church from ruins).

Seminary Moscow (correspondence course).

rector Transfiguration Votkinsk.

rector Annunciation Votkinsk.

monk (apostle Paul).

MTh Kazan Seminary.

archim.

⨁ Sarapul+Mozhga, Metr. Udmurtia (St Vladimir in Balashikha, by Patr. Kirill).