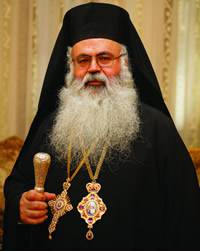 Georgios

Papachrysostomou
Archbishop, Nea Justiniana and All Cyprus

Nikosia
T.Th. 21130, 1502 Nicosia

1502

CYPRUS
Tel.: (00357) 22554600, fax: (00357) 22430451

akoffice@iak.org.cy
iakyprou@cy.net


https://churchofcyprus.org.cy
Archbishop Nea Justiniana and all Cyprus

* Athens N23.4.

grad Pankiprion gymnasion.

stud chemistry Athens.

dipl theol Athens.

stud chemistry, theol England.

diak diak

⊖ priest

teacher chemistry.

archim archim.

Secretary Holy Synod.

⊕ B Arsinois

B Arsinoès. assistant Paphos.

M Paphos.

Athens Interorthodox committee preparation Panorthodox Synod 2016.

member of the Holy and Great Synod of the Orthodox Church in Crete.