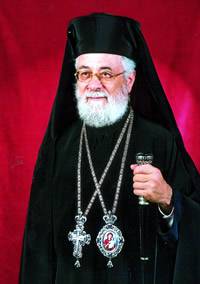 Basilios

Karayiannis
Metropol, Konstantia+Ammochostos

Konstantia
Ag. Georgiou 12, P.O.B. 34034,

Paralimni

5309

CYPRUS
[357] 23 812444, fax 812450

trimith@logos.cy
metropolitan-v@imconstantias.org.cy


www.imconstantias.org.cy
* Mandres Famagusta. N1.1.

Monastery Apostolos Barnabas,

Ieratiki Scholi Apostolos Barnabas.

Apostolos Barnabas.

diak Apostolos Barnabas.

gymnasion Ammochosto.

stud theol Athens, stud Byzantine Music Athens.

Stipendiat Catholica Unio, Sociologie Fribourg, diacre Chambésy Genève.

⊖ Cyprus

archim ;

paroisse Genève,

protosynkellos Helvetias.

Dr.theol (Prof. Schönborn OP) Université de Fribourg "Maxime le Confesseur, Essence et Énergies de Dieu".

Directeur Bureau Contacts inter-ecclesiastiques Nikosia, prof School Apóstolos Barnábas.

redacteur "Célébration des mariages interconfessionels protestants-orthodoxes en Suisse" Evangelisch-Orthodoxe Gesprächskommission.

⊕ ;

B Trimythoús Amathoús Tremetousiá, assistant Nikosia. Greek French English.

Central Committee CEC.

Commission Orthodox Collaboration WCC Geneva, Commission Faith and Order.

M Konstantia.

member of the Holy and Great Synod of the Orthodox Church in Crete.