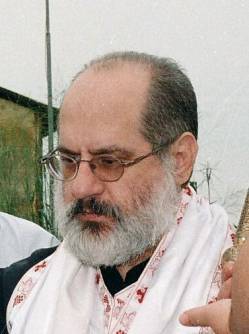 Panteleimon

Georgios Lampadarios
St. Theodore, 7101 Capriano Rd,

Lanham

MD 20706

USA
[1] 443 5353643

metropolianantiones@gmail.com



www.orthodox-mitropolianantiones-panteleimon.com
* Kalymnos. N27.7. emigration USA. St. Panteleimon Kalymnos. diplom theol Athens

diak

⊖ ;

Vicar General Johannesburg+Pretoria.

MA Classics (Greek) Univ RAU South Africa. Specialist in Byzantine Art and Restoration of ancient icons. Hierokēryx:

Cape Town,

Kalymnos,

Kos.

Vicar General Good Hope.

patriarchal vicar Alexandria

⊕ ,

B Ghana.

M Pelousion.

founder Center Learning Greek Language Culture of the Holy metropolis of Peluse in Port Said and Damietta.

retired with title M Antinoe.

Hierarchal Rektor Lanham.