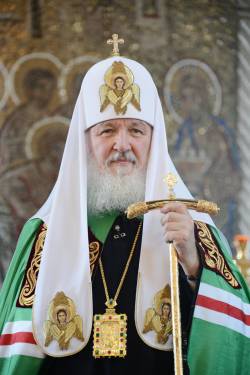 Kirill

Vladimir Gundjajev
His Holiness Patriarch of Moscow and of all Rus

Moskva
Čistyj Pereulok 5,

Moskva

119034

ROSSIJA
[7] 495 201-2840. 201-3416, fax 201-2504, Kancel. 201-2340. fax pers. 6372504 7312888. fax 201-2668, Tel Kabinet 201-2682, Tel pers. Peredelkino 4355048

www.patriarchia.ru www.mospat.ru
* Leningrad N24.5.

mon (M Nikodim Rotov)

diak

priest

Kandidat Leningrad,

teacher dogmatics inspector Akademia Seminar Leningrad, secretary to M Nikodim.

Repres. World Council of Churches Geneva.

rektor Akademia Seminar Leningrad

B, 1977 A Wyborg

vice exarch Western Europe.

A Smolensk+Vjazma

A Smolensk+Kaliningrad

Chairman Department External Church Relations Moskva.

member Biblical Comm.

member Theol Comm. :

Dr.h.c. 1987 Budapest, 2002 University Perugia Terni, 2004 Warszawa, 2005 Social University Russia, 2007 Polytechnic University Sankt-Peterburg, 2009 Academy Kiev, Presidential Academy Rossija, 2010 University MIFI, University Petrozavodsk, University Jerevan, University Dnjepropetrovsk, Academy Moskva, University Pridnjestr, 2011 University Voronezh, Lomonossov University Moskva, 2012 Sofia, 2012 St. Tihon University Moskva, 2015 Diplomatic Academy of the Russian Ministry of Foreign Affairs, 2015 Doktorantura Moskva.

co-president Conseil européen dirigeants religieux Oslo.

Orden Star Scientific Work.

Honorary Citizen of Smolensk.

laureat Rossijskij nacionalnyj Olimp.

Orden St. Sergij Radonež I.st.

First laureat Silver Rose St. Nicholas of Fribourg and Regensburg.

Vice-Chairman All-World Russian People Sobor.

Orden St. Alexij Moskau 2.Cl.

locumtenens.

patriarch.

Sheik ul Islam Orden Caucasian Muslim Board.

Church Ordens: Alexandria, Antiochia, Jerusalem, Russia, Georgia, Serbia, Bulgaria, Greece, Poland, CechiaSlov, Finland.

Grand Cross of the Order of Honour Greece.