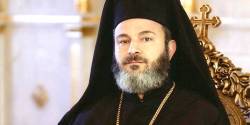 Isaak

Barakat
Metropol, Germany and Central Europe

Central Europe
Geranien Weg 27-29

Köln

50769:

GERMANY
+49 221 3795688

info@rum-orthodox.de
isaac.barakat@hotmail.com


www.rum-orthodox.de
* Damaskus. N? stud Jura Damaskus.

military service.

stud theol Thessaloniki.

stud New Testament Erlangen.

diak Dr. theol "The childhood Jesus according to the protoevangelium of Jacobus".

⊖

Orthodox Youth Movement.

abbott Balamand.

World Council of Churches Geneva.

archim teacher Fac Theol Maronite Kaslik.

Member Orth Cath Joint Commission.

⊕ Damaskus B Apameia.

auxiliaire patriarcal.

M Central Europe.