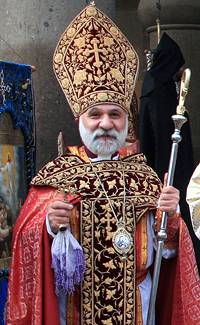 Nathan

Samvel Hovhannisianan
Catholicosate of All Armenians,

Etchmiadzin

1101

ARMENIA
[374] 10 517-100, -133, -122, fax -301, -700

divanatun@etchmiadzin.am
hbishopnathan@aol.com

Chairman of the Awards and Disciplinary Committee of the Mother See

* Erivan. NBartholomaios 12 Apostels.

graduated Komitas State Conservatory Jerevan.

Gevorkian Seminary Etchmiadzin.

diak diak

⊖ priest

Vardapet "Shepherd of Hermas", teacher Patristics Gevorkian Seminary, vice-dean.

locum tenens and Primate Ukraina.

Dzayraguyn Vardapet "Petros Qutur and his Anthology of Theology".

Medal "Prince Daniel of Moscou".

⊕ Etchmiadzin.

member Supreme Spiritual Council.

Primate Great Britain.

President Commission Oriental Orthodox Churches.

Order of Merit Ukraina.

Co-President Council of Churches England.

honorary citizen Bethlehem.

A.

Director Publishing Center Etchmiadzin.

fourth Primate Canada.

director External relations and protocol department Etchmiadzin.