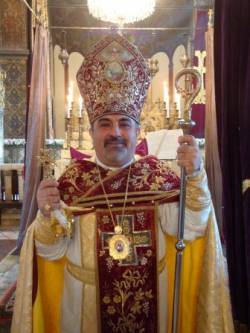 Vahan

Hovhannisyan
Archbishop, France

France
15, rue Jean-Goujon

Paris

75008

FRANCE
[33] 143596703

primate@armenianchurch.co.uk

* Baghdad Iraq.

school Baghdad.

stud Electric Engeneering University Baghdad.

dipl theol Saint Nersses Seminary, St. Vladimir's Seminary New York "The Council of Shahapivan".

diak by A Khajag Barsamian.

parishes Baghdad and Mossul.

priest.

parishes New York.

archim.

Dr. theol Fordham University "Third Corinthians".

visiting prof Biblical Studies.

Dzajragujn Vardapet "Coptic reading - New Testament Apokrypha".

Primate Great Britain.

B.

Primate France.