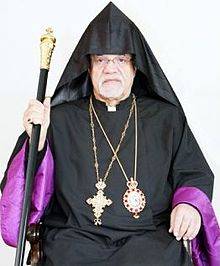 Sebouh

Ohan Sarkissian
Archbishop, Teheran

Teheran
Avenue Ostad Nejatollahi 311, Karmikhan Zand St,

Tehrān

IRAN
[98] 21 889798-0, -1; 890163-4, -5, -6. 892323. fax 8892617.

temakan@hyenet.ir

* Qamishly Syria "Ohan". N? Armenian school Qamishly.

Seminar Antelias.

diak

⊖ ;

stud Arab Lit and Islam Philosophy St Joseph University Beirut.

Middle East Council of Churches.

Director General Sunday schools.

MA Christian Muslim relations Birmingham.

B Kuwait and the Gulf, Patriarchal vicar.

A Tehran

Ordonation of Diaconess Ani-Kristi Manvelian.