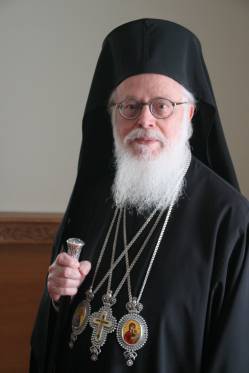 Anastas

Anastasios Yannulatos
Metropol, Tiranë+Durrës+Elbasan

Tiranë
Kisha Orthodhokse Autoqefale e Shqiperise Rruga Kavaja 151,

Tiranë

ALBANIA
[355] 4 234117, 235095. fax 232109

orthchal@orthodoxalbania.org
albaniaorth@gmail.com


www.orthodoxalbania.org
* Piraieus.Npascha, N22.1.

dipl theol Athens.

diak.

priest.

archim.

stud Hamburg Marburg Tübingen.

Dr.theol Athens.

General Director Apostoliki Diakonia Church of Greece.

Prof Religions Athens.

⊕ B Androusa. Director Theol Seminary Nairobi.

Acting Archbishop Archdiocese East Africa (Patr Alexandria).

Dean Theol Faculty Athens.

Président Commission "Mission et Evangélisation" Cons. Oecum. Genève.

DD Orth Theol Seminary Brookline USA.

Exarque Patriarcal (Konst) d'Albanie.

M Androusa.

A Tiranë.

Inthronisation.

Corresponding Member Ethics Politics,

Dr.hc.: 1995 Theol Uni Thessaloniki, Phil Uni Ioannina, 1996 Phil Agric Uni Athens, 1998 Phil Political Sc Uni Athens, Phil Fac Uni Athens, 2001 Phil International and European Studies Uni Piraieus. 2002 Phil Uni Creta. Phil Physics Medicine Engineering Uni Patras. 2004 Human Letters Uni Boston USA. 2005 Phil Medicine Fac Agric Uni Thessalia. 2010 University Cyprus.

Hon Member Theol Acad Moskva.

DD St Vladimir's USA, Fr Staniloae diploma Bucureşti.

Vice President CEC Conference European Churches.

Honorary Member Athens Acad Sciences.

president World Council Geneva. Honorary President of the World Conference for Religions for Peace

member of the Holy and Great Synod of the Orthodox Church in Crete.