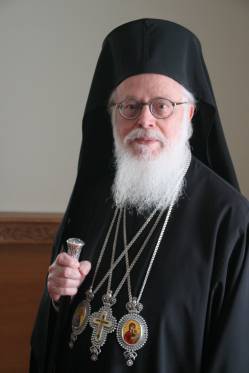 Anastasios

Anastasios Yannulatos
Archbishop, Tiranë+Durrës+Elbasan

Tiranë
Kisha Orthodhokse Autoqefale e Shqiperise Bulevardi "Deshmorët e Kombit", Nr.5, Tiranë, Albania.

Tiranë

ALBANIA
Tel. +355 42257261/2, Fax +355 42257263

orthchal@orthodoxalbania.org
albaniaorth@gmail.com


www.orthodoxalbania.org
* Piraieus.Npascha, N22.1.

dipl theol Athens.

diak.

priest.

archim.

stud Hamburg Marburg Tübingen.

Dr.theol Athens.

General Director Apostoliki Diakonia Church of Greece.

Prof Religions Athens.

⊕ B Androusa. Director Theol Seminary Nairobi.

Acting Archbishop Archdiocese East Africa (Patr Alexandria).

Dean Theol Faculty Athens.

Président Commission "Mission et Evangélisation" Cons. Oecum. Genève.

DD Orth Theol Seminary Brookline USA.

Exarque Patriarcal (Konst) d'Albanie.

M Androusa.

A Tiranë.

Inthronisation.

Corresponding Member Ethics Politics,

Dr.hc.: 1995 Theol Uni Thessaloniki, Phil Uni Ioannina, 1996 Phil Agric Uni Athens, 1998 Phil Political Sc Uni Athens, Phil Fac Uni Athens, 2001 Phil International and European Studies Uni Piraieus. 2002 Phil Uni Creta. Phil Physics Medicine Engineering Uni Patras. 2004 Human Letters Uni Boston USA. 2005 Phil Medicine Fac Agric Uni Thessalia. 2010 University Cyprus.

Hon Member Theol Acad Moskva.

DD St Vladimir's USA, Fr Staniloae diploma Bucureşti.

Vice President CEC Conference European Churches.

Honorary Member Athens Acad Sciences.

president World Council Geneva. Honorary President of the World Conference for Religions for Peace

member of the Holy and Great Synod of the Orthodox Church in Crete.

Speaking on the MEGA TV channel, the Archbishop of Tirana stressed, "I have been accustomed to 'climbing down steep hills' for 39 years now. We find a path and we move towards the glade again. I think that participating even in this way in the common pain is a gift of God." Referring to the health problem he is currently facing, he stated that (people) "should not always look at the negative side." "The symptoms are minor. Yesterday, we faced a bigger difficulty. I have a sensitivity in the lungs. I think we will get through this. I will be in Evangelismos Hospital today this afternoon. Besides, I know Evangelismos Hospital and we used to have some difficulties. We overcame them. And do not be upset. We will overcome every obstacle. So, whether we live or die, we belong to the Lord. These things are a great consolation to us," he added. 13/11/2020 Archbishop Anastasios of Tirana and all Albania sent an optimistic message from the Intensive Care Unit of the Evangelismos Hospital where he is being hospitalized. As he points out in the message he sent on Thursday night, "It has been the first day in Evangelismos Hospital and everything is going well. Throughout our lives, we refer to the God of surprises but also to the God of miracles. Our journey in Albania began with the shout 'God is with us' and the chorus of 'we are with him,' which supported our certainty that 'God will not leave us'. The Archbishop of Albania sent his heartfelt thanks to the doctors and nurses as well as to those who "once again expressed their love with spontaneous prayer." And he ends his message with the words from last Sunday's Gospel reading, which, he said, "determine the appropriate attitude: "Do not be afraid; just believe" (Luke 8:50). 15/11/2020 On the occasion of the thanks of Archbishop Anastasios to the physicians and the nursing staff of the Evangelismos Hospital in Athens, the Archdiocese of Tirana communicated the views of the Archbishop regarding the development of science and technology. As pointed out in a relevant announcement, "Orthodoxy sees the development of positive sciences and technology with praise and thanksgiving to God, Who has given man the opportunity to seek the truth and to discover unknown aspects of Creation. It is worth emphasizing that the Orthodox Church has avoided the attempt to patronize the scientific research and does not take a stand on any scientific achievement." It is emphasized, however, that at the same time, with our gratitude and respect for scientific research, "we are obliged to point out the dangers, which are hidden in certain scientific achievements, highlighting the dignity of man and his divine destination. That is because science and technology alone can not deal with and cure all human problems – moral, emotional, existential." "Man is not just intellect. 'Artificial intelligence' will never be able to replace love. It will always be fueled by faith, communion with the God of love. This macrocosm, the vastness of the universe, and this amazing microcosm that we carry within us, are things that the mind cannot fully comprehend. In short, the search for science aimed at exploring the secrets of creation as well as the spiritual search of the Church for approach and communication with the Creator are two different forms of search for truth. Both are expressions of praise to the One who is the Truth," concludes the announcement of the Archdiocese of Tirana. 23/11/2020 Archbishop Anastasios of Tirana, Durres and All Albania, after a twelve-day hospitalization in the Intensive Care Unit of "Evangelismos" Hospital, will continue the necessary treatment at home in Athens.