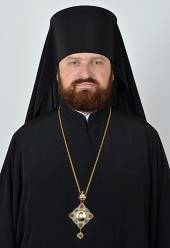 Antonij

Denis Doronin
Archbishop, Grodno+Volkovyssk, Belarussian Orthodox Church

Grodno
Gorkogo 2,

Grodna

230023

BELARUS
[375] 152 39 31 90. fax 152 39 31 91. p 444360 [375] 296773378

k@prihod.info


www.orthos.org
* Baku Azerbaidzhan.

the family moved to Belarus

school Dubovljansk

Seminary Akademia Minsk

Orth Theol Institute Chambésy Geneva

kandidat Minsk "Belorusskie trebniki 17th-18th c."

ipodiakon of M Filaret

mon.

diak.

aspirantura Moskva.

priest.

igumen

teacher of Church History at Minsk Seminary

teacher of Liturgics at Minsk Theol Academy

archim.

qualification "Pedagog-Psycholog" at Pedagogical University Minsk

Uprav. delami Minsk ekzarhija.

A new eparchy (of Slutsk+Soligorsk) was created in Belarus from Minsk eparchy

Cremlin, Moskva B Slutsk+Soligorsk (Patr. Kirill), Metr. Minsk, Belarussian Orthodox Church

Grodno+Volkovyssk

A. by Patr Kirill.