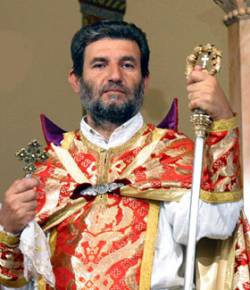 Yeznik

Samuel Petrossian
Archbishop, former Tavuš,
Catholicosate of All Armenians,

Etchmiadzin

1101

ARMENIA
[374] 10 585509, [374] 10 542039, [374] 91 401776.

ypetrosyan@biblesociety.am
tavushitem@gmail.com

in Tbilisi Georgia

moved to Erevan.

mon

priest

absolvent Seminar Theol Etchmiadzin.

Secretary Journal Etchmiadzin.

stud University Athens.

Dean Seminar Etchmiadzin.

Dr.theol Athens.

vicar North Caucasus.

B South Russia North Caucasus.

Dz. Vardapet, Prelat Krasnodar.

chairman Departm Interchurch Relations. Delegate CEC

A Summit Religious leaders Moskva.

General Secretary Bible Society of Armenia.

International Joint Commission Theol Dialogue between Catholic and Oriental Orthodox Churches.

A Primate Tavuš, he is proofreading the translation of the Bible into modern Armenian and making the critical Interlinear of the Septuagint (Greek Bible) and the Old Armenian Bible. He is also preparing a "Synaxary" the ritual collection of the Armenian Church for publication.