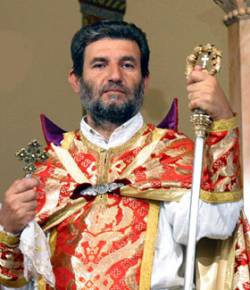 Yeznik

Samuel Petrossian
Archbishop, Secretary-General of the Bible Society of Armenia
Catholicosate of All Armenians,

Etchmiadzin

1101

ARMENIA
[374] 10 585509, [374] 10 542039, [374] 91 401776.

ypetrosyan@biblesociety.am
tavushitem@gmail.com

A Primate Tavuš

diak

Tbilisi Georgia

moved to Erevan.

mon

priest

absolvent Seminar Theol Etchmiadzin.

Secretary Journal Etchmiadzin.

stud University Athens.

Dean Seminar Etchmiadzin.

Dr.theol Athens.

vicar North Caucasus.

B South Russia North Caucasus.

Dz. Vardapet, Prelat Krasnodar.

chairman Departm Interchurch Relations. Delegate CEC

A Summit Religious leaders Moskva.

General Secretary Bible Society of Armenia.

International Joint Commission Theol Dialogue between Catholic and Oriental Orthodox Churches.