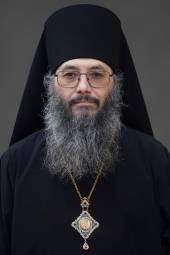 Petr

Michail Pruteanu
Bishop, Kafa, vicar Western Europe, vicar Spain+Portugal
Gran Via de Hortaleza 48,

Madrid

28043

SPAIN
[34](684)501540.

diocese@orthodoxspain.com


https://orthodoxspain.com/; https://ortodoxia.pt/
*Corlăteni Moldova. N. 31.12.

stud Theol Fak Iași.

monk Iași (St Petr Mohyla of Kyiv).

Nativity monastery Zăbriceni, Edineț diocese Moldova.

diak.

⊖.

lecturer Liturgics Acad Teol Chișinău.

Kandidat Kyiv "Anthropology of Dumitru Stăniloae".

hegumen.

stud Modern Greek Thessaloniki.

rector St John Chrysostom Cascais near Lisbon.

Dozent Universidade Católica Portuguesa.

archim.

⨁ Kafa, vicar Western Europe, vicar Spain+Portugal (Nativity of Theotokos in Kulishki, Moscow, by Patr. Kirill).