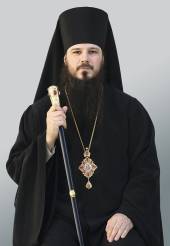 Nestor

Andrej Ljuberanskij
Bishop, Tolyatti+Zhigulyovsk, Metr. Samara

Tolyatti
ul. Revolutsionnaja 19,

Tolyatti

445026

ROSSIJA
[7] (8482) 32-00-49.

info@tltepar.ru


https://tltepar.ru/
*in Shelkovo, Moscow region

school Shelkovo, Moscow region

stud Mathematics Moscow Pedagogical State University

teacher mathematics and informatics Shelkovo, Moscow region

seminary Nikolo-Ugreshskij monastery

work at web sites of Nikolo-Ugreshskij monastery and seminary

novice at Nikolo-Ugreshskij monastery. Director of editions of the monastery

teacher at seminary

mon

diak

priest

moved to Penza eparchy

archim

B Kuznetsk+Nikolsk, Metr. Penza

new eparchy created B Tolyatti+Zhigulyovsk, Metr. Samara.