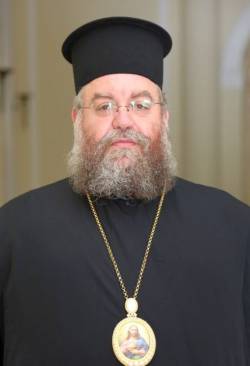 Meletios

Konstantinos Koumanis
Metropol, M Carthage

Carthage
5, Rue de Rome

Tunis

1000

TUNESIA
+216 71 331775 tel: 00216-22921606

melkal70@gmail.com


http://www.patriarchateofalexandria.com
*Kalamata Messinia.

graduate of Athens Higher Ecclesiastical School and of the Department of Social Theology of the Theological School of Athens; graduate of the School of Catechists of the Apostoliki Diakonia of the Church of Greece; languages: English, Russian, Arabic.

mon. (Holy Boulkanou Monastery in Messinia)

diak. (later Metr Chrysostomos Themelis of Messinia).

priest.

archim.

Chairman of the Council for administration and management of the Ecclesiastical Camps of the Metropolis of Messinia for their renovation.

Abbot of Holy Boulkanou Monastery.

transferred to Patriarchate of Alexandria; appointed parish priest of the Patriarchal Church St. Savvas in Alexandria.

Sacristan of the Patr Throne.

abbot of the Patr Monastery St. Savvas (by Patr Theodoros II); teacher at Patr Academy in Alexandria.

elected B Navkratos, assistant.

B Naucratis (Patr Theodoros II).

Metr Carthage.